This is now an Inactive Map Game.
The aim of the game is to form a large empire.
I made this because the map game section is filled with MSG's cancer.
I hope an exception in the rule can be made for this.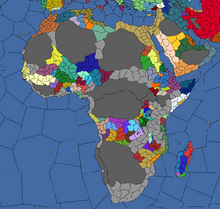 Admins
Gallic Mapping (Preasten) (NPC's) (Founder)
Catalan Mapping (we agreed on chat)
99Batran (Lore Makerand Turn Organizer, NPCs,)
Players
Gallic Mapping (Kanem Bornu)
Catalan Mapping (Tafilalt)
TenaciousMapping (Dahomey)
XXSebbanXx (Mamluks)
Minnesotan (Makuria)
CJaviation (Choosing) (Edit this when you have chosen)
MAGICxPYthon (Ethiopia)
MattMapping668 (Oman)
Freaker-San (Kabylia)
TheSteampunkTotoro (Sakalava)
AlternateHistoryMapper (Tunis)
GreaterVenezuela (ottomans)
Playable Nations
*Bold Means someone is playing as it already
*Cross Means Unplayable (Destroyed)
*Itallics Means its playable as a Vassal (put the country its a vassal of next to)
You can release nations as vassals (you can even create new ones and add them below
Mamluks
Makuria
Benin
Jolof
Kaabu
Adal
Ajuuran
Alodia
Aussa
Beja
Damot
Dongola
Ennarea
Ethiopia
Funj
Geledi
Hadiya
Harar
Hobyo
Janjiro
Kaffa
Majeerteen
Marehan
Medri Bahri
Mogadishu
Semien
Shewa
Warsangali
Welayta
Tlemcen
Djerid
Fez
Fezzan
Kabylia
Tafilalt
Tougourt
Tunis
Mzab
Asgabtu
Bonoman
Dagbon
Dahomey
Fulo
Hausa
Jenné
Kano
Katsina
Kong
Mali
Mossi
Nupe
Oyo
Segu
Yatenga
Zazzau
Air
Darfur
Kanem Bornu
Yao
Macina
Songhai
Timbuktu
Hejaz
Nejd
Yemen
Oman
Abu Dhabi
Timurids
Haasa
Granada
Cyprus
Dulkadir
Karaman
Shammar
Qara Qonyunlu
Aq Qonyunlu
Ottomans
Imerina
Sakalava
Pate
Suspended Players
*Haven't Touched Their Nation in a while so the admins will take control of it till you return
Kicked Players
*Broken A Rule, Allowed To Rejoin.
Banned Players
*Broken Multiple Rules or Broken a rule Twice.
Rules
No nation stealing
No being disrespectful to anyone
No invading anyone just because you don't like the person
Please listen to the admins
Ask Preasten Or Catalan Mapper If you want to be an admin/staff member
Have Fun
If your nation is destroyed you can ask to be another nation once. Otherwise you can't rejoin again.
Trivia
In 1444, Africa is a region full of emerging kingdoms. In the east, the Christian Ethiopian empire is experiencing a golden age under its celebrated ruler, Zara Yakob. In West Africa, the space left by the crumbling Mali empire is being filled by rising states such as Songhai. An ongoing crisis in the Maghreb will soon result in the rebirth of a strong Moroccan kingdom in the northwest, while the northeast becomes the playground of European and Turkish imperialists.
How To Play
Turn Order is random, must Write Claim Turn then number of turn
all npc's have random turns between turns.
Must Do Turn within 48 hours of last player or suspended
Claim Turn Here
Approved Cassus Belli's
Conquest
Humiliation
Cores
Allies In need (Only if ally is at war)
Enemy of my Enemy is my friend (if the enemy of your enemy is at war with your enemy)
Trade Dispute
Other (please state in claim turn, Wait For Approval)
Past Events
Turn 1:
Air Declares War on Katsina CB: Conquest
Kanem bornu helps by invading Yao and Katsina
End Of War, Kanem Bornu and Air Victory
Tunis Proposes alliance with Mamluks (can be accepted outside of turn)
Tunis Declares war on Tlemcen CB: Conquest
Tunis Victory takes half of Tlemcen
Turn 2
Tunis Declares War on mzab
Alliance Proposed with Ottomans
Mzab Defends Very well after its invasion of the south Tunisian states but still loses two of its northern provinces
Tunisian victory.
Turns
maps of game