Countries relations with each other
Vordalkien hates Miracium and believes that it is inferior.
Cassandrian Empire claims only cities Smyrna and Ayvali and also the Alicarnassos region, in order to improve commercial relations with its neighbours. C.E.O.M doesn't approve Miracium and they fight very often for Cassandria's claims, especially for Smyrna.
Sinpan has strong claims on North-Central Turkey, because it's the country's mainland. It also has a weak claim on whole Central Turkey territory, but because of other countries' presence it decided to don't press them. Sinpan dislikes Miracium, but is neutral toward other countries in the dispute.
Yamnu likes Vordalkien and gives Sinop to it but for all of the other Anatolia claimer countries (especially Miracium) it doesn't approve with them and constantly goes to war.
Pylion likes all of the ONs.
WIP
WIP
WIP
Loves Vordalkien, Miracium, Sinpan, Zadar, and Pylion, likes GAM, CEOM, Is Neutral to no one, dislikes Tikolia, Sora and Galoria, and hates Harinia and Yamnu (though Harinia is not in the dispute)
WIP
Likes Miracium, Sinpan, Cassandria, and Vordalkien; hates Yamnu, Zadar, and Zintonium; neutral to GAE and Pylion.
Galoria has a neutral relation in the Mapperdonian Universe to all nations in the Anatolian region except for Zintonium, which they claim has their land, and Harinia, which also has some land of theirs. They favor Miracium, seeing them as what inspired them to become an empire in the Mapperdonian Universe.
Outdated Solutions
Miki's Solution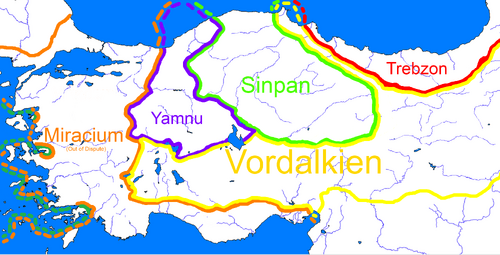 Approved By:
Miki - Yes
Golden - Fine
Percy -  Positive
Zukas -  ?
Lisastr - Yes! But I also want that inside that Sinpan owns. I want to have a straight border at my westernmost point. (Not very straight)
Solutions
(Solutions require two-thirds approval to be passed)
Asdf's Solution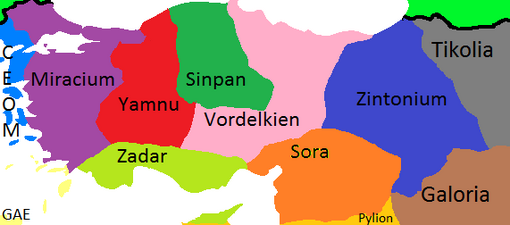 Asdf- Yes
Craft- Yes
MrAmericanMapper-
Percy- Affirmative (you gave me too much clay)
MOAP- No
Lisastr-
Miki-Yes
TOLF- No
Mexicoball- Yes
Java- No
Michigan- No
Pez- No
Total Approval: 5/12 (three away from passing)
Java's Solution
ONs get land close to their capitals
Kebab - I don't have my capital.