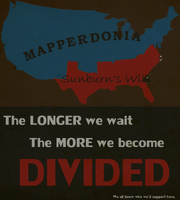 This was a cold war that started on the night of October 6/7, 2014, and ended January 7, 2015. It was between the Future of Europe's wiki and Sunburn's wiki. It is also called The Anniversary War or The Inevitable war. It was a conflict declared by Jaylastname by accident on the 2 year anniversary day of the TFOE Wiki (October 7th 2014). It is still unknown the real reason for declaring war, but we all know this war was declared to prevent further division. Sunburn claims that the war didn't exist, therefore ignoring it.
This war was also considered Neccessary by the majority vote of the TFOE wiki.
It faced criticism from several mappers who claimed that the war would only divide the community further.
It ended when MOAP and Batran banned wars, thereby ending it by default.
War Theme: Click
North West Training Video: Click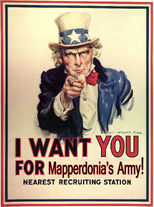 Sides (add yourself)
TFoE "North West" Wikia
SunnyKhan688
99Batran
♛ Emperor Jarjar ♛ (Support)
JayLastname
EthanConquistador (later neutral)
MikiPL004 (Support)
MrAmericanMapper (Support)
HappyDance9
TheGamingDutchmen
Multi Mappers
Monsoonjr99 (ASCII brigade)
UnitedMapper (Support)
RevanMapping
Scamps(Blocked)
Sunburn "SouthEast" Wikia
Sunburn9000
Supporters
Eren Paşa
Neutral
EthanConquistador
Olimario
It's excellent
Teh_Googly (Roastedgoogle)
GrandChewbacca
MervueMeringue
HappynHungry
NumanBaranBuyukbay
João Carvalho
FireMage
Mapmaker023 (Joined War but Left Because of No Progress)
KemziMapping
this random multicolored stone which just so happen to have a label that says "mak"
Progression (early version)
Oct 7:
Sunburn's wiki ignores the war so it won't be consumed by anti-war protestors.
Oct 8:
Several TFOE wikians attacked Sunburn's wiki
Oct 27:
Sunburn or one of his supporters attacks the TFOE wiki by vandalizing's 99batrans page
Dec 5:
Sunburn attacks the wiki again, this time, vandalizing several pages and inserting propaganda.
Jan 7:
MOAP and Batran ban wars, thereby unofficially ending the Anniversary War. It is unknown if the otherside will acknowledge it.
Ad blocker interference detected!
Wikia is a free-to-use site that makes money from advertising. We have a modified experience for viewers using ad blockers

Wikia is not accessible if you've made further modifications. Remove the custom ad blocker rule(s) and the page will load as expected.