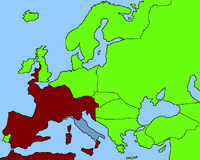 Baguettenia is an Official Nation from MikiPL004's AFoE Series.
History
Baguettenia was formed after collapse of the SPQR in North France and took the empire's troop reserves in Paris. With this advantage it quickly conquered surrounding countries and almost whole Western Europe and North Africa. However the wave of independences and war with Zapadrussia ruined the country and it collapsed into dozens of counties.
This article about a nation is a stub. You can help TheFutureOfEuropes Wiki by expanding it.
Ad blocker interference detected!
Wikia is a free-to-use site that makes money from advertising. We have a modified experience for viewers using ad blockers

Wikia is not accessible if you've made further modifications. Remove the custom ad blocker rule(s) and the page will load as expected.