The 2018 CON Parliament election in Alternia for the election of the 1st delegation from Alternia to the CON Parliament took place on February 8th in Alternia, and between February 7th and February 10th in the rest of CON. 20 seats were allocated to Alternia, following the political reform after the 4th CON summit, in which every member nation was granted equal representation. Seats were choosen by the First-past-the-post method in 20 different single-member constituencies. They were the first CON Parliament elections in Alternia, and the first supranational elections in which Alternia participated.
CON Parliament election, 2018 (Alternia)

---
---

All 20 Alternian seats in the CON Parliament
161 seats needed for a majority
Turnout
20.47%
 
First party
Second party
Third party
 
Leader
Edward Yanga
Simba Mohabi
John Boyega
Party
Black Panthers
National Revolutionary Party
New Alliance Party
Seats won
12
3
2
Popular vote
1,384,366
1,331,171
909,024
Percentage
26.9%
25.9%
17.7%

---

 
Fourth party
Fifth party
Sixth party
 
Leader
Jacob Bukila
Albert Keyes
Rumman Chimicha
Party
Citizens' Movement
Workers' United
Democratic Unity Party
Seats won
2
1
0
Popular vote
865,297
507,387
146,332
Percentage
16.8%
9.9%
2.8%
---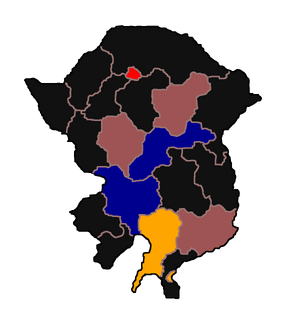 Results by constituencies
Campaigns
The National Electoral Institute was in charge of regulating the election. Campaigns officially began on November 1st, 2017 and they lasted until February 3rd, 2018. Some irregularities such as vote buying were reported, although the NEI determined that they were not big enough to affect the results of the election. The campaign was characterized by the lack of interest of the electorate, which resulted in a record-low turnout of 20.47%.
Timeline
November
December
January
February
Incidents
Opinion polling
| Dates | Organization | Sample size | | | | | | | Lead |
| --- | --- | --- | --- | --- | --- | --- | --- | --- | --- |
| December 18th | Alternia Today | 1,000 | 26.2% | 24.5% | 2.5% | 17.8% | 12.4% | 17.6% | 1.7 |
| December 29th | YouGov | 1,100 | 25.2% | 25.6% | 1.2% | 18.8% | 10.1% | 19.1% | 0.4 |
| January 8th | Mitofsky | 2,000 | 27.7% | 26.4% | 2.0% | 13.9% | 9.4% | 18.6% | 1.3 |
| January 13th | Alternia Today | 1,800 | 29.5% | 24.5% | 3.5% | 15.0% | 7.0% | 20.5% | 5.0 |
| January 23rd | YouGov | 1,500 | 32.2% | 21.7% | 4.1% | 12.0% | 6.9% | 22.1% | 10.1 |
| January 28th | Alternia Today | 3,000 | 34.0% | 19.0% | 2.0% | 11.5% | 7.4% | 26.1% | 7.9 |
| February 1st | YouGov | 2,700 | 33.6% | 13.1% | 4.3% | 16.0% | 9.2% | 23.8% | 9.8 |
| February 3rd | Mitofsky | 4,500 | 30.5% | 15.0% | 4.9% | 15.1% | 8.3% | 26.2% | 4.3 |
| February 8th | Election results | N/A | 25.9% | 17.7% | 2.8% | 16.8% | 9.9% | 26.9% | 1.0 |
Results by parties
Popular vote
BP
26.90%
NRP
25.90%
NAP
17.70%
CM
16.80%
WU
9.90%
DUP
2.80%
Parliament seats
BP
60.00%
NRP
15.00%
NAP
10.00%
CM
10.00%
WU
5.00%
DUP
0.00%
Results by constituencies
Bootu
Party/Coalition
Candidate
Votes
%
National Revolutionary Party
Batchka Novali
113,009
New Alliance Party
James T'challa
67,844
Democratic Unity Party
Richard Nomgwe
6,021
Citizens' Movement
John Futa
63,551
Workers' United
Nakia Buga
31,047
Black Panthers
Burak Obomi
98,012
Calasia
Party/Coalition
Candidate
Votes
%
National Revolutionary Party
John Bredenkamp
53,728
New Alliance Party
Philip Chiywanga
38,891
Democratic Unity Party
David Hatendi
4,561
Citizens' Movement
Strive Misiyiwa
67,098
Workers' United
Mutumwa Mawere
9,874
Black Panthers
Paul Mhova
33,638
Galachia
Party/Coalition
Candidate
Votes
%
National Revolutionary Party
Aleck Gumbo
25,948
New Alliance Party
Sally Hayfron
27,849
Democratic Unity Party
David Coltart
5,009
Citizens' Movement
Tichaona Jokonya
9,896
Workers' United
Leonard Dembo
7,043
Black Panthers
Cain Mathema
36,943
Harare
Party/Coalition
Candidate
Votes
%
National Revolutionary Party
Feferi Maryamka
59,442
New Alliance Party
Andrew Manyeyeni
56,721
Democratic Unity Party
Bill Emmerson
23,754
Citizens' Movement
Robert Nitram
82,293
Workers' United
Albert Keyes
116,669
Black Panthers
Dada Nandoro
57,813
Maryami
Party/Coalition
Candidate
Votes
%
National Revolutionary Party
Elson Moyo
48,363
New Alliance Party
George Nyandoro
46,936
Democratic Unity Party
Mark Patrirdge
7,430
Citizens' Movement
Timothy Syfole
5,433
Workers' United
Denis Walker
6,874
Black Panthers
Emmanuel Chiroto
30,112
Matebele
Party/Coalition
Candidate
Votes
%
National Revolutionary Party
Simba Mohabi
167,684
New Alliance Party
Jomx Lupane
45,851
Democratic Unity Party
Did not field candidate
__
Citizens' Movement
Did not field candidate
__
Workers' United
Did not field candidate
__
Black Panthers
Chenjerai "Hitler" Hunzvi
47,921
Nitrak
Party/Coalition
Candidate
Votes
%
National Revolutionary Party
Alick Ncube
33,827
New Alliance Party
Chartwell Dutiro
26,839
Democratic Unity Party
Josiah Gwezi
10,928
Citizens' Movement
Leonard Sembo
8,292
Workers' United
Did not field candidate
__
Black Panthers
Louis Mapfumo
36,728
Ojicia
Party/Coalition
Candidate
Votes
%
National Revolutionary Party
Juani Sancho
19,293
New Alliance Party
Kanaan Mnangawa
23,482
Democratic Unity Party
Did not field candidate
__
Citizens' Movement
Jamu Bamba
11,283
Workers' United
Nelson Chamisa
15,381
Black Panthers
Joice Mujuru
39,281
Omgwe
Party/Coalition
Candidate
Votes
%
National Revolutionary Party
Joyce Mujuru
37,894
New Alliance Party
Yeikol Poleska
41,923
Democratic Unity Party
Napel Guma
10,982
Citizens' Movement
Vila Oyervid
6,999
Workers' United
Olivia Muchena
8,648
Black Panthers
Solomon Skuza
64,921
Quilombo
Party/Coalition
Candidate
Votes
%
National Revolutionary Party
Joseph Kabila
93,543
New Alliance Party
Ember Cuomo
49,161
Democratic Unity Party
Rumman Chimicha
38,912
Citizens' Movement
Yahleel Tarek
26,872
Workers' United
Skal Quancho
28,063
Black Panthers
Edward Yanga
151,213
Serket
Party/Coalition
Candidate
Votes
%
National Revolutionary Party
Moven Mahachi
40,218
New Alliance Party
Did not field candidate
__
Democratic Unity Party
Did not field candidate
__
Citizens' Movement
Wilson Kumbula
20,362
Workers' United
Did not field candidate
__
Black Panthers
Emile Yanga
56,281
Stoneland
Party/Coalition
Candidate
Votes
%
National Revolutionary Party
Richard Chiwasa
57,893
New Alliance Party
John Boyega
100,567
Democratic Unity Party
Trevor Ncube
2,333
Citizens' Movement
Chido Govera
26,894
Workers' United
Gary Chung
17,009
Black Panthers
Byron Hove
60,082
Suthu (Federal District)
Party/Coalition
Candidate
Votes
%
National Revolutionary Party
Milu Chako
101,662
New Alliance Party
Jack Pumba
41,087
Democratic Unity Party
Anna Frika
13,451
Citizens' Movement
Jacob Bukila
322,761
Workers' United
Dante Uriba
132,767
Black Panthers
Elsa Trimpkala
51,009
Tavroskka
Party/Coalition
Candidate
Votes
%
National Revolutionary Party
Fletcher Dulini
38,392
New Alliance Party
Gohan Quadri
32,944
Democratic Unity Party
Kima Tizro
11,283
Citizens' Movement
Vero Sakazar
9,839
Workers' United
Giselle Hoyo
4,832
Black Panthers
Jah Solo
47,929
Tequischaka
Party/Coalition
Candidate
Votes
%
National Revolutionary Party
Rockfort Jospat
43,336
New Alliance Party
Paul Matavire
70,568
Democratic Unity Party
Did not field candidate
__
Citizens' Movement
Sam Mangwana
8,484
Workers' United
Guy Georgias
10,777
Black Panthers
Alzi Dumiso
37,690
Tisilia
Party/Coalition
Candidate
Votes
%
National Revolutionary Party
Alfra Mazoku
247,154
New Alliance Party
Claire Motana
74,520
Democratic Unity Party
Did not field candidate
___
Citizens' Movement
Juangug Zepedak
133,427
Workers' United
Orko Yonda
12,547
Black Panthers
Delfinus Makara
264,070
Vrika
Party/Coalition
Candidate
Votes
%
National Revolutionary Party
Fay Chung
42,833
New Alliance Party
Finn Hove
26,910
Democratic Unity Party
Did not field candidate
__
Citizens' Movement
Pobi Monera
25,483
Workers' United
Ben Rusere
33,272
Black Panthers
Enos Nkala
78,942
Waguis
Party/Coalition
Candidate
Votes
%
National Revolutionary Party
Joshua Nkomo
38,302
New Alliance Party
Elias Kuzaro
46,117
Democratic Unity Party
Did not field candidate
__
Citizens' Movement
Did not field candidate
__
Workers' United
Opa Mubako
54,491
Black Panthers
Charles Banana
81,392
Wucheraria
Party/Coalition
Candidate
Votes
%
National Revolutionary Party
Yvonne Vera
42,811
New Alliance Party
Angus Shaw
56,985
Democratic Unity Party
Kira Vaca
11,668
Citizens' Movement
Togara Basenyi
17,510
Workers' United
Kylo Mhlanga
11,432
'Black Panthers
Henry Olonga
61,098
Zecogu
Party/Coalition
Candidate
Votes
%
National Revolutionary Party
Zion Gumede
25,839
New Alliance Party
Herbert Chipeto
33,829
Democratic Unity Party
Did not field candidate
__
Citizens' Movement
Winston Field
18,820
Workers' United
Patrick Zhuwao
6,661
Black Panthers
Iain Kumbula
49,291
See also