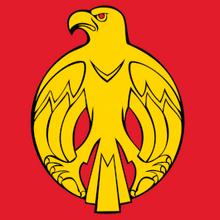 Emartis ✖ Arotanika ✖ It's excellent was one of the most popular mappers with 1520 subscribers. But he deleted his channel in 27th May 2015 because a lot of people hated him for his homophobic video and because he "is" "ukrainian fascist". Also he said that he spends too much time on YouTube and wants to rest from him. Then he restored his channel but said that he won't upload anything on him - just returned his "the best" and his "the most famous" videos.
Some information about him
Emartis is 16 years old boy from Rachiv, Transkarpathians, Ukraine. He started mapping in 31st December 2013 from alternative history of Europe (deleted after deletion of channel). When he was 8-9 years old he tried to make something similar with mapping as animation in Gimp (program which he usually used for mapping). He wasn't famous until October 2014 when he started making The Future of Europe in countryballs. These series inspired a lot of people to do the same things (The countryballs Theory was the first). Emartis became famous and very hated by people because these series were very offencive, especially the 8th (the last) part. His official nation is Arirania.
Also I love math and physics. My personal dream is to find the way how to predict the future with usage of mathematical instruments. I think that it's possible and can be released by solving of differential equations.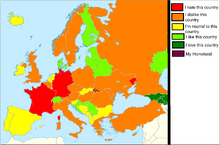 What he has done to mapping community
He is creator of series kind called Mappers Wars where mappers are countries on European or on another map and fight as real countries. And he is creator of Countryballed mapping dialect where polandballs are used in mapping. Countryballed mapping dialect is getting more and more popularity nowadays.
Also he was one of the most famous mappers who made countries colourful.
Why he left mapping
He left mapping because too lot of people hate him and because he couldn't earn on his videos.
He was inspired by
Subscribers milestones
Channel creation date - 7th October 2013
25 subscribers - November 2013 and 7th February 2014
50 subscribers - 8th March 2014
60 subscribers - 4th April 2014
100 subscribers - 17th May 2014
111 subscribers - 26th May 2014
150 subscribers - 20th June 2014
200 subscribers - ~10th September 2014
250 subscribers - 26th October 2014
300 subscribers - 11th November 2014
400 subscribers - 10th December 2014
500 subscribers - 29th December 2014
600 subscribers - 18th January 2015
1000 subscribers - ~March 2015
1500 subscribers - ~mid of May 2015
Relations with mappers and mapping community
Before May 2015 he had some friends, enemies, allies from mapping community, was member of factions and participated in wars (until they weren't banned) but when he deleted his account, he became neutral to everybody and don't cares about life of wiki. He thinks that this wiki is just waste of time and interferes to mappers to do mapping videos. He uses wiki now only to write information about him on this page to future mappers.
Votes on Its excellent page
Who uploads better countryballs videos?
Your relation to Emartis?