This page is owned by Theodoreball. Please ask him before making relevant edits.
| | |
| --- | --- |
| | This Nation is a member of IUON |
| | |
| --- | --- |
| | This nation is a member of the EPA |
European Republic
Francoisan Republic

| | | |
| --- | --- | --- |
| ← | 2000–Present | |

Motto
"Gateway to Europe"
Anthem


Capital
Parois
Largest city
Parois
Official languages
Franchese, Spanish, Flemish
Demonym
Francoisian/Franchese
Religion
Christianity, Islam
Government
Semi-Presidential Republic
Historical era
Peace
Population
 - 
2018 estimate
107,000,000 
GDP (PPP)
 - 
Total
$2.0 trillion
 - 
Per capita
$59.541
GDP (nominal)
present day kek
 - 
Total
$3,343,444
 - 
Per capita
$62.220
HDI (2017)
0.889776
Currency
Euro
Time zone
UTC+1
Calling code
+See list of country calling codes

Francoisa, officially the European/Francoisan Republic, or ocassionally Francoisan/Franchese Republic is a country in Western Europe that contains the land from Spain, France, Italy and Belgium.!
Anthem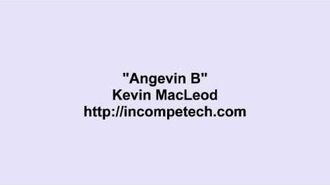 The lyrics to the anthem of Francoisa are as follows:
Qu'il soit garde, qu'il soit un bouclier,
Pour toujours, il bénisse et exerce
O gracieusement tous les actes de tes enfants,
Tu es le pays le plus cher, le mien!
Estonie
Mais les fleurs de la liberté ne retournent pas
Du sang répandu des morts,
Et les larmes de l'esclavage brûlent,
Que voient les yeux des orphelins.
Bless Francoisa,
Oh, bénissez-le, nous vous prions!
Je t'appartiens,
Dans le coeur sont à vous.
Et c'est cette belle terre,
La terre de Fran Cois, ma maison,
Le territoire de Fran Cois, ma maison . Avec ta puissante main nous soutient,
Encore notre trame accidentée;
Dieu, notre espoir; protéger et chérir,
François Cois et Fran Cois!
Que tu habites dans cette terre
Origins
Francoisa is a "Franchese" country which is in western Europe. The northern coast is on English Channel, while southern Francoisa is Mediterannean Basin, where there are very dry seasons. Francoisa is named after the Francoist Spain, Name "Francisco", Prime Minister Francisco Franco, Francois Hollande, and the founder of Francoisa, Fran Mich Cois. Francoisa covers a large area something big as Turkey or Chile.
Coat of Arms/Flag
More at Flag of Francoisa
Here is the coat of arms:
Quote about Emblem:
"
☀The blazon of the Spanish coat of arms is composed as follows: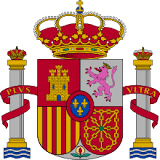 "Royal crown, the columns surrounded by a ribbon Gules charged with the Motto 'Plus Ultra' written Or (the Pillars of Hercules)."
The flag of Francoisa is Flag of France + Flag of Italy + Flag of Belgium + Flag of Spain. The Blue on flag means Water, the red means Heat and black means Ash. The coat of arms, of coursely is the Spanish Coat of Arms, as Francoisan Flag is a combo of flags.
The flag was made by the founder of Francoisa, Fran M. Coisa. 
And yeah, thats all.
History
For complete history, see History of Francoisa.
Before the Presidential Republic
When Francoisa was a Semi-Presidential Republic and Semi-Imperial Republic, starting in 1794, it was a new government: A consulate. After the consulate, in 1804, Napoleon renamed Francois Land into Francoisan Empire and took over Prussia, Most of Iberia, Italian Peninsula, Ionian Islands, Moscow occupation, and even half of Austrian Empire. Unfortunately, however, Francoisan Empire collapsed its invasions and became the current size of France again. After that, other emperors took the government, until 1848, when Napoleon III or Charles Carter was coronated new emperor and conquered parts of europe until 1870 when the Francoisan Empire stopped being a real empire and became semi-presidential and a semi-monarchy. Several presidents took the government. WWI and WWII made France dangerous especially Alsaine and Lorraine, and Germany invaded France partially during WWII. Eisenhower, Roosevelt, Churchill, Stalin, Jackie, and Truman occupied German France and brought France back to independence. Nothing important happened until Jacks Cherack decided to stop the confusion of "Francoisan Empire" and renamed it "Francoisan/European Republic." 
2017 Elections
See more information about current president at Emmanuel Roberts In May 2017, Emmanuel Roberts became the new president of France, and one of the youngest ones to be president, at the age of 39. However, on December 19, 2017, the president turned 40. Roberts is a great one who has high IQ, and has studied greatly in his early years.
Peace Time
After the revolt, Francoisa became peaceful. The country had a long peaceful time, but this would eventually end in few years from 2017.
Geography/Geology/Climate
Regions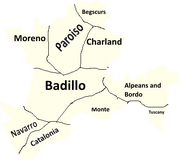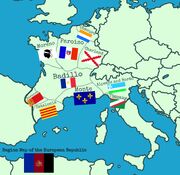 Francoisa has 10 regions for now, and will have more later. List of the 10 regions:
Flag
State
Capital
1. Paroiso
Paris
2. Moreno
Ajaccio
3. Badillo
Bordeaux
4. Tuscany
Florence
5. Alpeans and Bordo
Milan
6. Charland
Dijon
7. Monte
Marseille
8. Obscurs
Antwerp
9. Catalonia
Barcelona
10. Navarro
Bilbao
Province/Cantons
Here are Francoisa's provinces/Cantons (WIP):
Canton of Paris 
Canton of Burgundy
Canton of Marseille-Nice
Canton of Bordeaux
Canton of Brittany
Canton of Milan
Canton of Piedmont
Canton of Corsica
Allies/Enemies
Here is a list of allies:
Geology
Francoisa was part of Europe in Laurasia and Pangaea, and it was strangely shaped. Francoisa became a large nation and 65 million years ago, Francoisa increased it's land area. However, million years later, Francoisa cooled down but only 5% was covered in Ice during the Last Ice Age. Francoisa warmed up and became what it is now. But in the future, Francoisa may have connected to Africa again.
Climate
Map: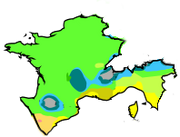 Climate Itself
Francoisa's climate is Oceanic in the west and north, continental/subarctic in the neo-Alpean lands, and subtropical Cfa climate itself in south east, Mediterranean on the Mediterranean coast/basin.
Climate in several cities
Parois (Paris) - Cfb Oceanic Temperate Climate
Borcolono (Barcelona) - Cfa Humid Subtropical Climate
Navarro (Bordeaux) - Cfb Oceanic Temperate Climate
Layons (Lyons) - Cfa Humid Subtropical Climate
Morisoo (Marsielle)/Noco (Nice) - Csa Hot Mediterranean Climate
Ajaicko (Ajaccio) - Csa Hot Mediterranean Climate
Torono (Torino/Turin) - Cfa Humid Subtropical Climate
Turetskyo (Milan) - Cfa Humid Subtropical Climate
Bolenia (Bologna) - Cfa Humid Subtropical Climate
Florenkio (Florence) - Cfa Humid Subtropical Climate
Pizo (Pisa) - Csa Hot Mediterranean Climate
Eybe (Elba) - Csa Hot Mediterranean Climate
Bilbo (Bilbao) - Cfb Oceanic Temperate Climate
Zaraha (Zaragoza) - Bsh K Cold Semi-Arid Climate
Brosels (Brussels) - Cfb Oceanic Temperate Climate
Witerlo (Waterloo) - Cfb Oceanic Temperate Climate
Population history/estimate
2010 - 92,323,224
2011 - 95,750,567
2012 - 98,039,234
2013 - 99,189,789
2014 - 102,506,678
2015 - 104,000,000
2016 - 107,000,989
2017 - 107,234,566
2018 estimate - 107,975,234
Mostly Christianity and Islam, rest other religions/Atheism
Most are white, others unknown, and very few originated from Africa and Asia
Languages are French, German, Flemish (Belgian Dutch), Spanish, Catalan, Occitian, Breton, English
Countries we RECOGNIZE
Francoisa itself Archeldia South/Ethan's/True Baltorus Western Republic Britania (Only GBR and Ireland areas) Gralician Federation Fyorr Chicago Republic ALatia Parboulni Arkmarken
Largest cities
Picture
City, State
Population

1. Paris, Poroiso
About 3,000,000

2. Milan, Alpeans and Bordo
About 2,000,000

3. Barcelona, Catalonia
About 1,500,000
4. Brussels, Obscurs
About 1,400,000

5. Antwerp, Obscurs
About 1,000,000

6. Torino/Turin, Alpeans and Bordo
About 950,000

7. Marsielle, Monte
About 900,000

8. Zaragoza, Navarro
About 750,000

9. Genoa, Tuscano/Tuscany
About 700,000

10. Bilbao, Navarro
About 600,000
Francoisa in other languages
Add if you want to
Archeldian - Phrankoveis
Arabic - فرانسوا
Finnish - Francois
Macedonian - Франсоа
Serbian - францоис
Spanish - Franquia
Tajik - Франсуа
Turkish - Frankozya,
Russian - Франсуаза
Parbounlinese - Pxrankva
Polish - Frankozja
Gralician - Franchodisia
Italian - Francoisa
Song Contest Statistics
Mappervision
Linguavision
None yet.
Political Parties
The political party congress of Francoisa: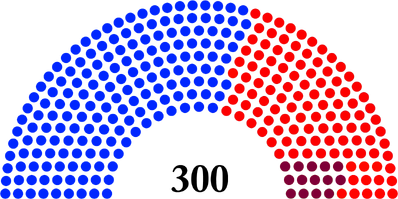 Red - The Republicans Blue- The Democrats Purple - Bull Moose and Progressives
Airlines

The national airlines of Francoisa, the Napo Airlines has many destinations, like WestAir and the airline website is airnapo.fr. Napo Airlines is inspired by WestAir. However, it's less recognized and Napo Airlines is Napoleonic style aircraft, and looks modern day for some reason
Example of a Napo Airline owned plane: 

Culture
The Francoisan Culture is popular well known, and combines with many Western European cultures combined together and form a large culture in Francoisa.
Sports
Francoisa has participated in 2 mini monthly cups, in december and currently in January, and has participated in MIHF 2018 Winter Championship and will participate in MIHF 2018 Spring Qualifiers. Francoisa also will participate in DRS monthly tournament
Alliances and Former Alliances
Current Alliances
Former Alliances
Gallery

Theodoreball


European Republic
Sports


Francosian Football League

Francoisan Ice Hockey League
MSG User: Minnesotan Mapping Designs by MSG
MSG Map Games Minnesotan-European (Map Game) Minnesota Against the World (Map Game Series) Minnesotan-Asian (Map Game) Minnesotan-African (Map Game) Nations

Francoisa

Britania

Gitman United Kingdom of Minneapolis FuNations
The "Big" Republic of Minnesota Francoisa Regions

Paroiso

Charland

Catalonia

Navarro

Badillo

Alpeans and Bordo (Francoisa)
Moreno Tuscany

Monte Francoisan Cities

Paris Lyon Ajaccio Corte Orleans Strasbourg Dijon Brest Tours Nantes Toulouse Toulon Bordeaux

Milan
Venice Trieste Florence Pisa Bilbao Zaragoza Barcelona Marseille Nice Cannes Montpelier Calais Cherbourg Aosta Turin Bologna Brussels Antwerp Waterloo Francoisan History
Francoisan Kingdom

Francoisan Empire