Holy Caucasus Empire is a Empire like the HRE. The nation was created by MOAP and Triumphmapper
History
The Armenian was in war with; Georgia,Iran,Azerbaijan. In 2100 they conquered more of Iran, Sea acess of Turkmenistan and Kazakhstan and Uzbekistan. in 2200 as the USSR was weak the HKE Conquered the Caucasus USSR and nearly all Ukraine lands.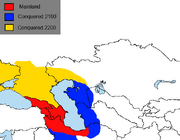 Flag
The flag is blue and red with a eagle like the austrian Eagle
Misc
HKE Is Non-Communist state The leader is: Khai-II
Trivia
No Trvivia
Ad blocker interference detected!
Wikia is a free-to-use site that makes money from advertising. We have a modified experience for viewers using ad blockers

Wikia is not accessible if you've made further modifications. Remove the custom ad blocker rule(s) and the page will load as expected.