India is a country in the Asian continent, and India has a population of over one billion people, since China has almost practiced the one child policy, India will become the most populated country in 2050 or earlier.
History
Too lazy, add it yourself. I've copied sources from Wikipedia or any other sites, edit it if you want the history to be pure-non sourced.
Stone Age
Isolated remains of Homo erectus in Hathnora in the Narmada Valley in central India indicate that India might have been inhabited since at least the Middle Pleistocene era, somewhere between 500,000 and 200,000 years ago. Tools crafted by proto-humans that have been dated back two million years have been discovered in the northwestern part of the subcontinent. The ancient history of the region includes some of South Asia's oldest settlements and some of its major civilisations. The earliest archaeological site in the subcontinent is the palaeolithic hominid site in the Soan River valley. Soanian sites are found in the Sivalik region across what are now India, Pakistan, and Nepal.
The Mesolithic period in the Indian subcontinent was followed by the Neolithic period, when more extensive settlement of the subcontinent occurred after the end of the last Ice Age approximately 12,000 years ago. The first confirmed semipermanent settlements appeared 9,000 years ago in the Bhimbetka rock shelters in modern Madhya Pradesh, India. Early Neolithic culture in South Asia is represented by the Bhirrana findings (7500 BCE) in Haryana, India & Mehrgarh findings (7000 BCE onward) in Balochistan, Pakistan.
Traces of a Neolithic culture have been alleged to be submerged in the Gulf of Khambat in India, radiocarbon dated to 7500 BCE. However, the one dredged piece of wood in question was found in an area of strong ocean currents. Neolithic agriculture cultures sprang up in the Indus Valley region around 5000 BCE, in the lower Gangetic valley around 3000 BCE, and in later South India, spreading southwards and also northwards into Malwa around 1800 BCE. The first urban civilisation of the region began with the Indus Valley Civilisation.
Indus Valley
Archaeologists have discovered evidence of agricultural cultivation in India dating as far back as the 7th millennium BC, with the first signs of urban communities appearing around 2500 BC. The so-called Indus civilization flourished for eight centuries. Some experts believe that the Indus had an empire of some 500,000 square miles in size, with a (more or less) uniform language and currency and which supported an extensive trading network. For reasons that remain unclear, the Indus civilization collapsed some time around 1800 BC. The major cities all but disappeared, as did all traces of central authority. Some scholars believe that this was the result of environmental degradation resulting in widespread starvation, making larger urban populations unsustainable, while others suspect that large migration into the area by foreign invaders are responsible for the collapse. Whatever the cause, this post urban period lasted for almost one thousand years.
Vedic Period
The "Early Vedic Period" is dated from approximately 1500 to 800 BC. It is named after the "Vedas," which are the earliest surviving Indian written material, composed some time during this period. Four major Vedic texts have thus far been discovered – the Rigveda, the Samaveda, the Yajurveda, and the Atharvaveda. These texts describe religious/mystical practices of the Aryan people of India, a group which migrated from central Europe into India some time around 2000 BC. The Hindu religion traces its origin back to this period. At the beginning of the Vedic period many people had returned to a nomadic way of life, and the clan was the major political unit. Over time the population returned to a more stationary existence, and the clan chief evolved into a king, with political and religious – as well as military – authority. As taxation evolved, the state grew in wealth and power. This period also saw the widespread use of iron and the return to urban life, especially in the Ganges valley. Indian civilization was once again on the rise.
Mauryan Empire
Middle Ages
The Mughal Empire
Colonisation
20th Century
Independence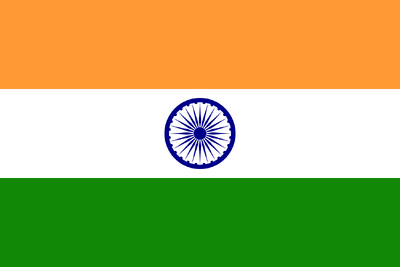 After World War II, Gandhi declared India as an independent country break away from the British Empire. Which the British Raj becomes four nations, India, Pakistan, Bangladesh and Burma/Myanmar.
Post-1945
Future
EthanConquistador
The Indian will be either got collapsed by the Pakistani or they conquer the Subcontinent of India. The rather is unknown, because many people in one country is simply hard, all of the income and stuff would be fallen. Another method that, India falls into lot of city-states and got annexed from the neighbouring parts. Which is very difficult.
Zephyrus
1. India conquers Pakistan and Bangladesh and forms greater India (maybe).
2. India splits after a Civil War, maybe between Muslims and Hindus. (unlikely).
3. Dammit, I can't think of any other.
Zukas
1. India invades Pakistan and Bangladesh to establish the old territories.
2. India has a huge economical improvement turning them into a superpower.
3. China declares war on them for south Tibet and india wins taking entire of Tibet.
Drexmapper
India can fall apart due to the overpopulation. Surely, the muslim people in western India will declare independence and join Pakistan. Also, if Tibet gets independence it'll absorb Buthan, Nepal and some Parts of India, cutting India in 2. The Eastern part will be divided between Bangladesh and Burma.
Goldenrebel25
They will probably collapse because of the overpopulation and pollution (Probable).
They will clean up and become a powerful world nation (Probably not).
Multi Mappers
India gets nuked by Pakistan in the year 9999.
Kavishan Mapping
India conquers Tamil Eelam, Bangladesh, Bhutan and Nepal forming Hindustan.
MikiPL004
India cleans up and becomes strong (maybe). India invades Bangladesh and Sri Lanka (maybe). India gets killed by China (maybe). India invades Pakistan (unlikely). India splits up into many small countries (very unlikely). Nazi-Commie dictator rises up in India named Adolf Putin (impossible).
Dementor Mapping
India conquers its neibhours and makes Hinduistan (maybe). India will build Mega defences for Apocalypse to defend themselves (maybe). India Invades whole Jammu and Kashmir and converts them to Hinduism (likely).
Aendarus Mapping
India will become communist to support its ever growing population. This secures good relations with China. Interests begin to drift toward reunification of Hindustan. India decides to invade its neighbours. China also takes over Mongolia and Korea. Tensions begin to arise between this Asian alliance and NATO. India takes over Thailand and Malaysia, while China takes over Laos, Cambodia and Vietnam. Communist revolution occurs in Japan. Japan joins China. Russia succeeds in restoring the Russian Empire without Alaska. The USA collapses and Canada and Mexico take land. Russia collapses. China and India invade Iran, the Stans, and Siberia. NATO declares war on China-India. India bombs nuclear power plants all over Europe. NATO does the same to India. China annexes Siberia. Most countries end up collapsing, and hundreds of small rebel governments are formed across the world. The UN is dissolved into the African Union. A large nation called Hindustan starts to dominate the Indian subcontinent.
SunnyKhan688
India could be taken by Pakistan and Sri Lanka (possibly but no really).
India and Pakistan and South Asia may combine to United South Asian States (maybe).
Mexicoball
India kills Pakistan because empire and then dies because Jabril was liberated from jail.
Ad blocker interference detected!
Wikia is a free-to-use site that makes money from advertising. We have a modified experience for viewers using ad blockers

Wikia is not accessible if you've made further modifications. Remove the custom ad blocker rule(s) and the page will load as expected.