Please put the nations you control in here and the NPC nations you control as well. Also put the locations where your nations start and the color you will use for these nations. Try to spread out throughout the map so everyone has some room to expand. Every player controls one to three NPC nations, you decide. Or if you don't want any NPC nations to control, you can just have none. Vassals are considered as part of your nation.
We will keep the bottom half for now as it won 9 against 5. The bottom half might be removed if the game has too many players.
Players
Disturbedfan

Player Nation: Visignia (Denmark-Germany) (Blue)
NPC 1: Cherokee (North America) (Grey)
NPC 2: Mohave (California) (Light green)

EthanConquistador

Player Nation: Sydney (New South Wales) (Brown)
NPC 1: Alexandria (Egypt) (Red)
NPC 2: Timbuktu (Africa) (Violet)
NPC 3: Ulundi (South Africa) (Pink)

 Multi

Player Nation: Valgond (eastern Siberia) (yellow)
NPC 1:Ayyubids (Syria and Iraq) (green)
NPC 2:Japanese Empire (Japan) (orange)
NPC 3:Byzantine Empire (Constantinople) (cyan)

 HappyDance9

Player Nation: England (North England) (Rose Red)

 99batran

Player Nation: Brabrantium (Netherlands and Belgium) (Dark Blue-Green)
NPC 1: Spartan(Or Lakonian) Hegemony (Peloponnese, Greece)
NPC 2: South Vietnam (South Vietnam)
NPC 3: American-Occupied Germany (Bavaria, Germany)

Goldenrebel25

Player Nation: The Melville Horde (Norway, Iceland, Greenland, East Coast, Eastern Canada (Midnight)
NPC 1: Tyberny (France) (Purple)
NPC 2: Ozyory (Moscow) (Ice)
NPC 3: Tornio (Finland) (Light Orange)

Percy

Player Nation: Macedonia (Greek-FYROM Macedonian area) (orange)
NPC 1: Siam (Siam) (red)
NPC 2: Derdor (Egypt,  Somalia, Libya, Sudan,  Ethiopia, northeast Africa) (Blue)
NPC 3: Aztechs (Mexico) (oil green)

MikiPL004

Player Nation: Portalicia (Portugal, West Spain) (Light Blue)
NPC 1: Spanish America (Chile, Argentina, Peru)
NPC 2: Impossiblia (North Korea, South Korea)
NPC 3: Urrlia (Kazakhstan)

ExplodingPaintbrushProductions

Player Nation: Moragian Empire (Poland) (Blue-Green)
NPC 1: The Rutaygads (Arabia) (Sunset Orange)
NPC 2: The Emizads (Southern Persia) (Forest)
NPC 3: Rutanion (Croatia) (Brown)

Drexmapper

Player Nation: Stan Union (Indus Valley) (light red)
NPC 1: Insulindia (Indonesia) (Blue-green)
NPC 2: Río de la Plata (North Argentina) (Silver)

Ironhand21

Player Nation: Ireland (Northern-Ireland) (light pink)

LoganZombieOfTime

Player Nation: Roamonius (Rome) (Dark Red)
Here's the map where we see every players starting provinces. Every player please copy this picture and edit the page where you have added your NPC nations color. Be sure to color your NPC nations so that we can clearly see a difference between the nations (no blue and slightly darker/lighter blue, for example).
Because some problems came up with the picture, please open the picture in a new tab (if you have a wheel in your mouse click the picture with the wheel, it should do it at least in Windows). Do not click it like a normal picture, open it in a new tab. Seriously, new tab. Got it? New tab? Good. New tab...
Note : I don't use paint.net or whatever so can someone edit the map of me?
Thanks! -LoganZombieOfTime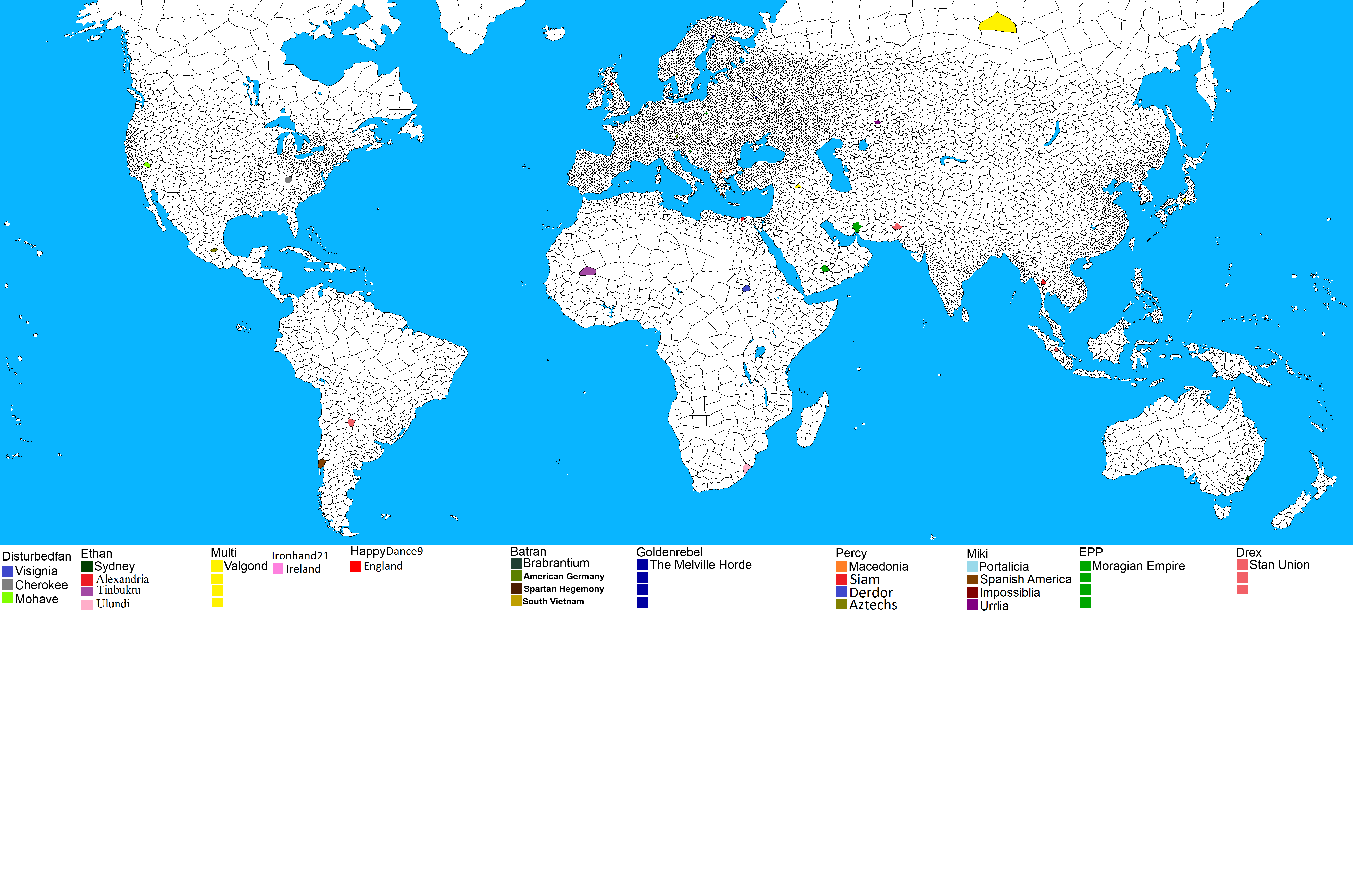 Ad blocker interference detected!
Wikia is a free-to-use site that makes money from advertising. We have a modified experience for viewers using ad blockers

Wikia is not accessible if you've made further modifications. Remove the custom ad blocker rule(s) and the page will load as expected.