This is now an Inactive Map Game.
Rules
1 - A Map is chosen each game!
It Varies from Europe-asia-north/south America-Australia and the middle east
2 - A country thats bigger than another country is stronger Than another countrt
3 - Every time its your turn You can take 1-2 Dark grey square(s) And Paint it black
4 - No cheating (obviously)
5 - If your capital is taken, relocate the capital temporarily.
6 - Change the color on where you want your nation to be!!!!!!!!!
7 - Only use the map Of the history!
Current Map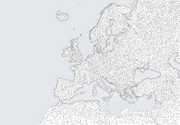 Kicked
Banned
Unions/unified countries
Both countries that are in the union control The union
they can change there name if they want
And Unions have randomly given out names To there locations!!!.
Players
Kolonel heart (Rome) Navy Blue

Language: Latin
Culture: Italian
Philipp mapping (Chlero) Blue

Language: Chleron
Culture: Chleron
Philipp Mapping(Valgond) Dark Green
Language:
Culture:
Philipp Mapping (Persia) Brown

Culture: Arabic
Language: Persian
Mapper freaker (Lertania) Red
Culture: Lertanian
Language: Lertanian
Mapmaker023 (Scandinavia) Light Blue
Culture: Norse
Language: Norwegian, Swedish
Mapmaker023 (Germania) Yellow
Culture: German
Language: German
Mapmaker023 (Denmark) Purple
Culture: Norse
Language: Danish
HappyDance9 (Anglo) Magenta
Culture: Anglo-Saxon
Language: English
HappyDance9 (Gauls) Sad Blue
Culture: Frankish
Language: French
Culture: Castilian
Language: Spanish
NPC (Portugal) Light Orange
Culture: Portuguese
Language: Portuguese
Culture: Dutch
Language: Dutch
Culture: Gælic Irish
Language: Gælic, Irish
Culture: Gælic Scottish
Language: Gælic, Scottish
Culture: Welsh
Language: Welsh
Ironhand21 (Hungary) Light Green
Culture: Hungarian
Language: Hungarian
TheRealCreator901
Algeria (Blackish Grey)
Language: Arabic and Berber
Culture:Arabian and Mediterranean
Ad blocker interference detected!
Wikia is a free-to-use site that makes money from advertising. We have a modified experience for viewers using ad blockers

Wikia is not accessible if you've made further modifications. Remove the custom ad blocker rule(s) and the page will load as expected.