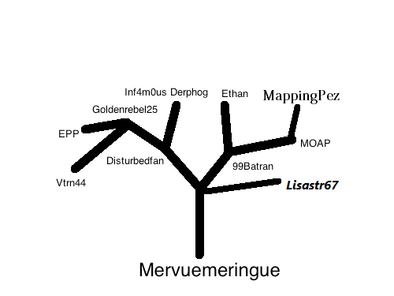 This is a page about mappers that are inspired by other mappers. 
How it works: Each major category is a major mapper with a lot of mappers that are inspired by him. I'm starting with me (Goldenrebel25) and using my most major inspiration, DF1100. My brother is inspired by me, so he is added to the tree too.
Mapanimator
Disturbedfan1100
MikiPL004
Goldenrebel25
Vtrn44
ExplodingPaintbrushProductions
Java Sea
99batran
EthanConquistador
MrOwnerandPwner
Mxicoball
Craft0Video
TheJarjar99 (later)
Mapmaker023
New Style
IN CONSTRUCTION!
| | | | | | |
| --- | --- | --- | --- | --- | --- |
| 99batran | | Disturbedfan1100 | | | Lisastr67 |
Ad blocker interference detected!
Wikia is a free-to-use site that makes money from advertising. We have a modified experience for viewers using ad blockers

Wikia is not accessible if you've made further modifications. Remove the custom ad blocker rule(s) and the page will load as expected.