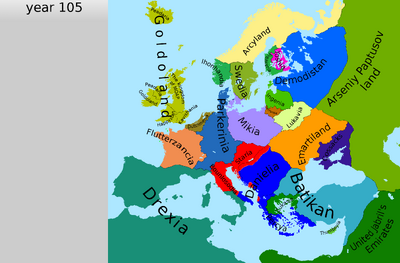 Mappers wars -
that's are current series of It's excellent, the same with alternative history of Europe, but names of countries are made from real mappers names (example - Goldoland: nation in Ireland, which name was made from Goldenrebel25 - very famous mapper).
Almost these parts are ruled by subscribers, because they ask to add them and say another suggestion about their nations.
That's are most popular series of It's excellent - they get ~50 comments in average and 20-30 likes after one day of uploading.
All countries in these series:
Write article about your nation if you have a time - It's excellent don't spends a time for these articles making
History of countries in this series
Daviricum and Duxylvania
In part 7, Duxylvania got autonomy from ReDirectia (That was in a personal union with Kurgandinia). In part 8 it changed name to Daviricum.
Numania
Thumboyia,Zukasia,and Romanian mappers helped him become independent and not a puppet.Since then He became allies with Yigitia.
Possible future events in this series