| | |
| --- | --- |
| | This article may be outdated. Please help it by updating the article with the latest information on its subject. () |
This is a list of all the branches of mapping.
There are two main different types of mapping. Videos made by the half-mappers are one kind, made more for historical accuracy less so for entertainment purposes. Since these are more supposed to be more informative, they do not feature talking countries. Videos made MervueMeringue and the rest of the other mappers are the second kind.  These are geared more towards entertainment and less for historical accuracy, although they still need to be historically accurate to some extent. The latter kind has many different sub branches. Mappers refer to these sub branches as "dialects".
If a dialect becomes very common enough, and if most mappers agreed, the common dialect will become the MODERN dialect, the old dialect will become a Traditional one.
List of Dialects (Sub-Branches)
Mapperdonian Land Branches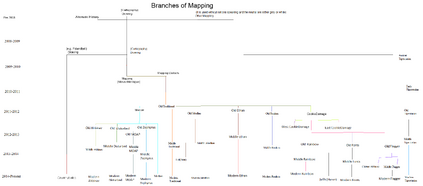 .

Recognized/Distinguished Dialects
Nick HD (Current Modern)
Mapanimator (Late Traditional)
Future
Disturbedfan
MOAP
Proposed Category
Hybrid or Unrecognised Category
MrAmerican Proto-3D ( a sub category of Realism)
Extinct Categories
Mapperdonian Ocean Branches
Recognized/Distinguished Dialects
Proposed Category
Hybrid or Unrecognised Category
Extinct Categories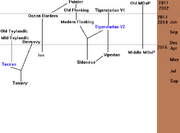 Ad blocker interference detected!
Wikia is a free-to-use site that makes money from advertising. We have a modified experience for viewers using ad blockers

Wikia is not accessible if you've made further modifications. Remove the custom ad blocker rule(s) and the page will load as expected.