(NSF) New Socialist Federation                                                              
This faction is the outcome from the merging of GCA and TRA
Members
Member : Zukas                            Position : Leader of GCA ; Leader of NSF
Member : Drexmapper'                Position : Leader of GCA ; Leader of NSF
Member : Mind                             Position :  Marshall of GCA ;  Marshall of NSF
Member : Sunburn9000              Position : Major of  NSF ; Rogue/Comrade
Member : Multi Mappers            Position : Civil of NSF ; Rogue/Comrade
Member : BielLuk                        Position : Civil of NSF ; Rogue/Comrade
Member : Thumboy                     Position : Civil of NSF ; Rogue/Comrade
Member : EthanConquistador   Position : Civil of NSF ; Rogue/Comrade
Member : Craft0video                Position : Civil of NSF ; Rogue/Comrade
Member : FlyBoiKai                    Position : Civil of NSF ; Rogue/Comrade
Member : TheLatvianMan1       Position : Civil of NSF ; Rogue/Comrade
Member : Goldenrebel25          Position : Civil of NSF ; Rogue/Comrade
Member: Zoltek/Velcube           Position: Civil Of NSF ; Rogue/Comrade
Member: Ironhand21                 Position: Civil Of NSF ; Rogue/Comrade
Relations
I guess they are good now that there are 2 leaders again but one of their leaders hates communists and socialism 
Current relations:20(Threatened)
We maintain good relations with the alliance, we are allies.
Current relations:110(Allies)
They tried to edit the map so NSF becomes smaller, also we were at war before when they were HDA and NMA.
Current relations:-50(Hostile)
Anthem 
Our red sun is arising and   drives us Forth! To the fight for a mapperdonia 
Socialistic!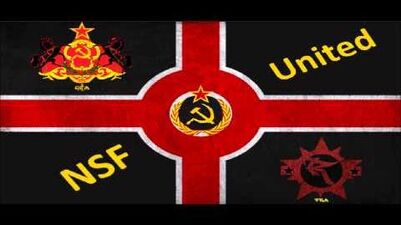 Come with us and all united
to go forth
and if we meet obstacles
our right FIRE

Flaming swords,flaming swords
the mapper people has made the decision
we won't leave it enslaved
peoples domination everyone asks
One people, One soul
in a society Socialistic
Together we will achieve
Total Freedom 
go forth Brothers 
in a society Socialistic
Ad blocker interference detected!
Wikia is a free-to-use site that makes money from advertising. We have a modified experience for viewers using ad blockers

Wikia is not accessible if you've made further modifications. Remove the custom ad blocker rule(s) and the page will load as expected.