The Ninth Wiki War is a war that started when Drexmapper declared war against the HDA.
Ninth Wiki War

GCA

Drexmapper, Zukas, Mind1337 (while Zephyrus is trying to be the pretender of UPMU), Sunburn9000 (Day 1 only)

HDA, NMA, GMA-UPMU

Happydance9, Ironhand21, 99Batran

Causes

After the Eighth Wiki War

Result

Zephyrus demanded to have the Second leader.

NMA declared war against GCA.

The GCA starts to dismantle HDA.

Started

20th May 2014

Time

~1.75 days

Goals

GCA: Dismantle HDA

HDA: GCA not to dislike HDA
History
Day 1 - "Declare War"
The GCA suddenly and unexpectedly declare war (Even if they promised not to declare on anybody) on the HDA on 20th May 2014. The HDA call in the NMA and UPMU into the war. HDA annexes the East Coast of GCA as seen on the map; as well as an island held safe by UPMU as seen on the map: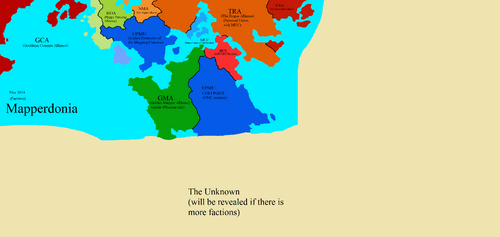 The GCA annex a lot of our coast.
The UPMU, NMA and HDA surprise the GCA with an attack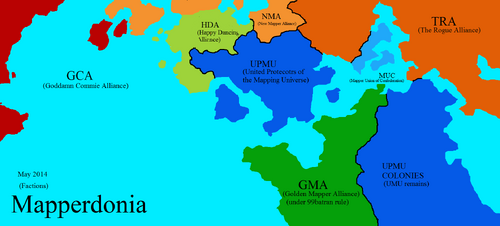 UPMU-GMA blockades their shores but not attacking (they were never officially in the war)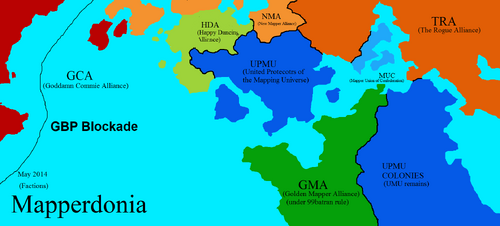 At the end of the day, Sunburn9000 left all the factions that were at war.
Day 2 - "Pretenders"
Ethan and Happy made a peace treaty. But unfortunately it ended quicker as NMA declared war, while Zephyrus is trying to make the second leader, as Drex wanted to dismantle HDA, some of the HDA, including Ironhand disagreed it. When Sunburn9000 noticed NMA's declaration of war, he joined GCA back, then left once again. 
Factions
GCA
Drexmapper declared war on HDA which flared the wiki war. Mind1337 is captured. Sunburn9000 left the faction and later rejoined the faction. Their plan is to dismantle the HDA.
Goldo-Batran pact
99Batran says that the union betwen GMA and UPMU protects HDA, but the truth is that he is the only one in the entire pact that supports the HDA, but the whole pact is neutral still.
HDA
HDA gets invaded by GCA. Happydance9 calls for help.
NMA
Supported HDA. War ended only quickly after NMA's declaration of war though.
TRA
Neutral
MUC
Searches for peace. Neutral.
GAA
Fears that someone can attack them. MUC protects them.
Ad blocker interference detected!
Wikia is a free-to-use site that makes money from advertising. We have a modified experience for viewers using ad blockers

Wikia is not accessible if you've made further modifications. Remove the custom ad blocker rule(s) and the page will load as expected.