Hello, I am a mapper called PolishRapidFire and as you would guess im from Poland and live in England. My youtube channel is PolishRapidFire-Mapping and only started in December but have done mapping for a few years.
Profile

Youtube Channel
PolishRapidFire- Mapping
Subscribers
9 (January, 2016)
Homeland and place of Birth
Poland, Kujawsko-Pomorskie
My Location
Bristol, England
Ideology
Nationalism, Conservative
Favorite Mappers
TheKonijn24

QualityMapping

ComeradeHussar

IonMapping

Age
15 this year
Official nations
Thinking of one
Secondary Nations
Kingdom of Polan, Polabian Republic

and Polgarian Republic

Working on Series
Realistic future of Europe
My top 10 likes
Poland
Football
Overall Sports
Politics
Geography
History
Leadership
Fallout 4
Political discussions
Realism
Top 10 dislikes
Traitors
People who Dislike Poland
People who dislike Catholics
Satanists
Refugee propaganda
Extremists
Ukraine(Not every person but History and Politics)
Extremists
Propaganda
USSR
Mapping style
Realistic
Alternate
Modern
Sometimes based on Facts
Better quality
Logical
Political
European
Opinions on other countries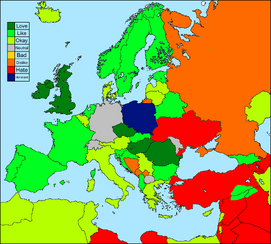 Favorite politicians(I like their Ideology)
Janusz Korwin-Mikke
Andrzej Duda
Paweł Kukiz
Nigel Farage
Órban
Lech Kaczyński
Lepper
Politicians i hate and some that are traitors to Poland
Donald Tusk
Martin Schulz
Ewa Kopacz
Petru
Neumann
Stalin
Winston Churchill(Sold Poland to the USSR)
If i was a Polish leader i would...
Make schools more active
More Job agencies
Get rid of some foreign businesses and replace with Polish
Make schools teach proper Polish History
Make schools more active
Give more options in schools for students
Build houses for people or fund house building companies
Make oil wells(Recently found that Poland actually has loads of oil and resources)
Get rid of Media propaganda and make proper Polish propaganda(only 20% of media is Polish)
Continue nuke program
I know it would cost but Poland is making loads of money which isn't used and it would take time to change stuff which im aware. Its just what i would want.
Country balls i made
| | |
| --- | --- |
| Kuyavia | Kashubia |
| Polan | Sorbia |
| Szekely | Polish-Lithuania commonwealth |