Scandinavian dispute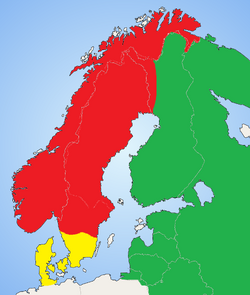 Proposal of João "like rio" Dinis (Owner of Tylastrona)
| | |
| --- | --- |
| Date | November 18th, 2014 - November 2nd, 2015 (11 months, 2 weeks, 1 day) |
| Location | Scandinavia |
| Result | |

The Scandinavian dispute was a dispute between two Official Nations and one nation in Mapperdonia; Tylastrona, Zapadrussia, and Vintome. The dispute was started by User João "like rio" Dinis, who thought that Vintome was an Official Nation and wanted to make a dispute. He made a map, showing his proposal of the dispute. The proposal showed Vintome getting Denmark and lower Sweden, Tylastrona getting the rest of Sweden and Norway, and Zapadrussia getting the entirety of Finland and the land beyond it east.
WIP
Ad blocker interference detected!
Wikia is a free-to-use site that makes money from advertising. We have a modified experience for viewers using ad blockers

Wikia is not accessible if you've made further modifications. Remove the custom ad blocker rule(s) and the page will load as expected.