The anti Trio coalition war started in around June-July. 
Trio bullies Ethan and yells to be unblocked. He said that so mappers should get cancer.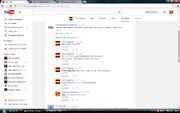 It is also known as the Third Great War since it's in YouTube instead of the wiki, but the Game Mania Group Wiki is also involved as well.
Belligerents
Axis
Trio (Evil, mental and dumbass kid) with his numerous alts, these include:
Happeedick9 (?)
Allies
Ethan (victim)
Sunburn9000
Goldenrebel25
Inf4m0usDerphog
Lolistan
Ironhand21
Zukas
Happydance9 (?)
MansurNejem96
Thumboy
Percy
Mapper Freaker
Multi Mappers
MichiganMapper
Bwahahahaha HD (User on youtube, not much is known about him)
People who support the allies, but aren't in the war.
Mapmaker023 
Mind
Triumphmapper
Kavishan Mapping
MrOwnerandPwner
Strength
Axis
1
Allies
15 (+5)
Trio Conspriacies
See here: Trio Conspiracies