Trio has made several conspiracies about the wikia. All of them have been proved wrong.
EPP's death
Conspiracy
EPP cracked his head on the stairs and died, and that is why Goldenrebel is so hostile to everyone else.
Reality
EPP DID crack his head on the stairs, but he is recovered in the hospital and is well.
Reason
He is mean. Also this is not the first time of him being mean against GR25's family.
Vaktovia
Conspiracy
Vaktovia is a whole different person than Trio.
Reality
They are the same person.
Reason
Wanted to make others think other people is on his side.
New Mapper
Conspiracy
Trio founds a new mapper and the map acts similarly to Jabril.
Reality
Some mappers found out that it was Trio who made the account not someone else.
Reason
Unknown. Maybe he is a fan of Jabril?
Roblox fake characters
Conspiracy
99batran and EthanConquistador are the roblox users that are mappers.
Reality
Ethan doesn't play ROBLOX, batboy is batran's roblox username, Triopking is trio's roblox username and Sunburn9000 is Sunburn's roblox username.
Reason
Wanted to create a fake proof of Ethan and batran being mean.
Sextalker's origin
Conspiracy
Trio's friend made sextalker
Reality
Trio is sextalker.
Reason
Trio was ashamed and decided to lie.
Arcy
Conspiracy
Trio fought Arcy.
Reality
Trio never met Arcy.
Reason
Wanted to be cool.
Arcy (2)
Conspiracy
Ethan is Arcy
Reality
Ethan isn't Arcy
Reason
To make Ethan evil.
Trio Mapping (wiki account)
Conspiracy
Trio mapping was sextalker trying to ruin trio's reputation.
Reality
Trio is both Trio mapping and sextalker
Reason
Was ashamed and lied to try to get out of it.
Mapperdonia wiki
Conspiracy
Someone else made mapperdonia.wikia
Reality
Trio made mapperdonia.wikia
Reason
Trio wanted to hide that he made this: http://mapperdonia.wikia.com/wiki/User:EthanConquistador
Trio's age
Conspiracy
Trio is 13 years old
Reality
Trio is around 10 years old.
Reason
Wanted to look superior to Ethan.
Sri Lanka
Conspiracy
Sri Lanka stole the Hindu gods from India
Reality
Sri Lanka is actually mostly Buddhist and hardly Hindu
Reason
Wanted to offend Kavishan Mapping
Swede Mapping
Conspiracy
Trio is not Swede Mapping.
Reality
Goldenrebel found out that Swede Mapping has the same ip as one of Trio's other alts, and quickly blocked Swede.
Reason
Wanted to edit the wikia in secret.
Vernad = "Trio"
Conspiracy
Swede Mapping (Trio) said that Vernad2 was Trio.
Reality
Goldenrebel had been talking with Vernad2 on skype and had befriended him, while Trio said that he hated Skype.
Reason
Trio wanted his Swede Mapping account to look "real".
'Shrek is going to Shrek you' is Ice Parody
Conspiracy
Shrek is going to Shrek you is Ice Paraody and his alts (including liiiiiii), however he is not trio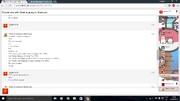 Reality
Shrek is going to Shrek you and Ice Parody are trio
Reason
Trio wanted people to think some of his previous alts were infact, entirely different people. 
"TMG is Homosexual"
Conspiracy
Trio classifies TMG as homosexual.
Reality
TMG's actual sexual orientation is heterosexual.
Reason
Just to try and get the Mapperdonians to discrimin8 against him.
Ad blocker interference detected!
Wikia is a free-to-use site that makes money from advertising. We have a modified experience for viewers using ad blockers

Wikia is not accessible if you've made further modifications. Remove the custom ad blocker rule(s) and the page will load as expected.