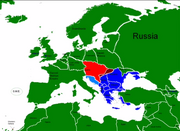 Zephyrus is more of a sub-dialect to Ethans. There are a few differences though.
City names are bigger
Occupied red territory is dark red instead of light
During alliances, the alliance colors are seen all the time even if the alliances aren't fighting.
No nukes, but other weapons of mass destruction (see season 1 episode 4)
White borders (not nessecary)
White ocean
No curved names
Countries share occupied land
Example of Zephyrus dialect: Link
Ad blocker interference detected!
Wikia is a free-to-use site that makes money from advertising. We have a modified experience for viewers using ad blockers

Wikia is not accessible if you've made further modifications. Remove the custom ad blocker rule(s) and the page will load as expected.